Below Article is from Dan Grossman of NUVO – View Original Article Here
On Thursday, Sept. 21, the day of the dedication for Sofiya Inger's mixed media installation at Still Waters Adult Day Center Eastgate, it was 91 degrees outside.
So instead of congregating outside, clients, staff, and family caregivers gathered in a conference room adjacent to the lobby — where the installation is located. Inger spoke to those gathered briefly about the installation, which was supported by a grant from the National Endowment for the Arts.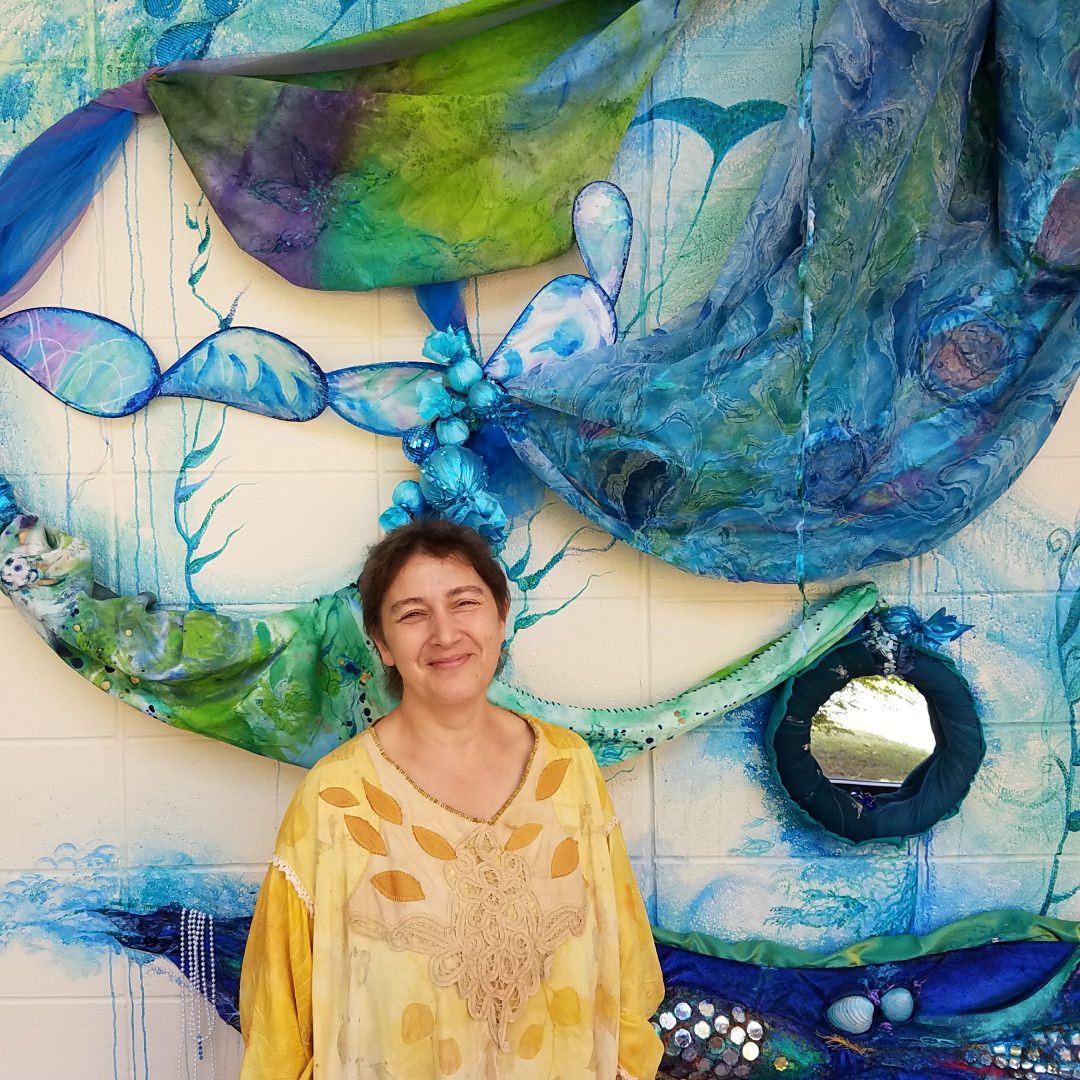 "What Lies Within" incorporates a wide variety of media – including fabric, beads, feathers and mirrors. In looking at this coolly-colored installation, that takes up nearly the entire lobby wall, you just might imagine yourself immersed in the water with many mirror-coated fishes.
"We started with the name of Still Water," Inger said. This is the name of the name of the place and the water contains…  a lot of energy as we might just know now. We're just feeling the energy of the water in all the parts of the world."
Inger had the help of Still Water's clients, family caregivers and children in creating fabric panels that were used in the installation.
"It was [around] 120 – 130 people," said Inger.  "I put it together myself but everything that is painted here is painted by people so all the fabrics all the little sections with the circular things, they're all painted by people either individually or as a group on a big fabric"
Inger was born in Kirov, in Northern Russia.  She attended the Kirov School of Art in 1981.  In 1991, she immigrated to the United States.  She studied textile design in the Fashion Institute of Design in New York City. In 1994, she moved to Indianapolis, where she has taught at the Indianapolis Art Center.  She has displayed her work at numerous venues around town, including the Indianapolis Art Center and the Jewish Community Center.
Inger was looking to convey a certain feeling with this new installation.
"People who come here, they're not home, they're displaced," Inger said.  "They're coming into a place where they're not familiar; they're losing their cognitive ability so they need to have something to calm them down but also to bring a positive, both a calming and a positive energy at the same time.  So I was trying to work on that."