I went back in time today! It's true! I played a game of catch back in the 1860's. This afternoon my family met up with the White River Base Ball Club before they faced off with the Bluegrass Barons from Lexington, Kentucky. I helped Sparrowhawk, the team manager, whose real name is John, warm up before the contest. By the way, each member of the team picks an old-timey nickname. My friend Jester, also known as Josh, who I played with at the Children's Museum on Day 18, put me in touch with Sparrowhawk and Bosco, also known as Tim. 
When we arrived, I quickly introduced myself to the team as they prepped for today's first game, a 7-inning matchup using the 1860's rules, which means no gloves. As we started our game of catch, which was a warm-up for the team manager, Sparrowhawk told me about the ball. It was a lemon peal ball like I had used when I played with Jester, I mean Josh. He prepared me well for this game of barehanded catch. I knew some of the basics already. Use two hands. Let the ball come to you. Then toss it back. I was ready to play 1860's base ball! Although my catch partner wore a very small leather glove during our game of catch. This would have been used in the 1880's, so I was stuck in the 60's and my catch partner in the 80's. Time warp base ball!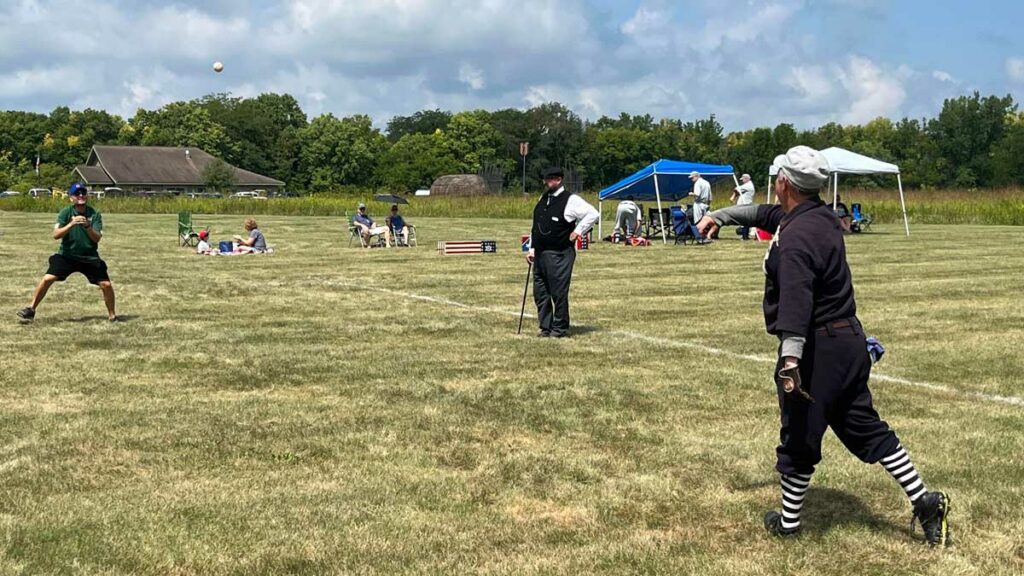 As we tossed the ball back and forth, one of the players asked how their manager fared against the rest of my participants for the 30-day challenge. I said he's throwing quite well. They all laughed as they said, "He's not worth a nickel toward your $20,000 fundraiser!" He really did throw it with some strength. He's been playing for many years, so he's had some base ball practice.
We had to quickly wrap up our game of catch as the finely dressed umpire with a cane called the teams together. I went from the warm-up player to a crank. Our family was a bunch of cranks today. No, I don't mean cranky. Base ball fans in the 1880's were actually called "cranks" as a derogatory term. The sport at that time was a raucous game where spectators were quite rowdy likely aided by adult drinks and gambling. I think the term cranks probably matches a lot of baseball fans today. This afternoon's cranks weren't as rowdy, although my boys stood and clapped several times after a good hit or defensive play.
The team is a great group of historians who love baseball! My kind of group really. They even included the kids by letting them check out their bats, joked with them about pinch-hitting for the team, and told them about the old-time base ball they were playing. 
Today's game of catch was a lot of fun and one that took me back in time. I hope I can catch another game of the White River Base Ball game again in the future. In fact, if you want to follow them and attend a game, here's their Facebook site: https://www.facebook.com/WhiteRiverBaseBallClub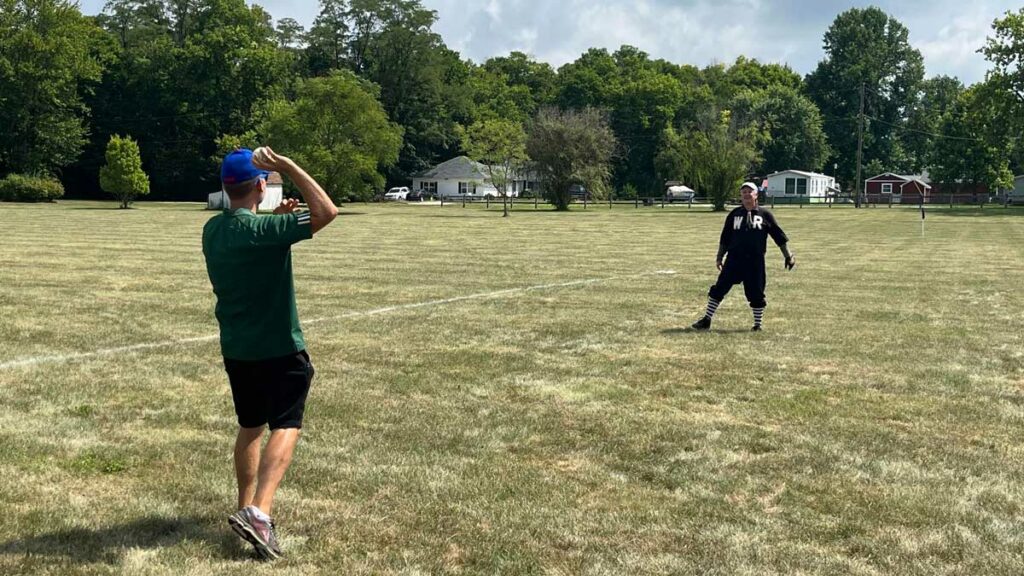 Special thanks to the team, Sparrowhawk for playing catch, and Bosco for taking pictures and visiting with our family today! Oh, and I almost forgot! Jester has already given me a nickname for the team. They call me "Rev" now. I think it fits! 
You might be wondering where we are on the fundraiser for Gleaners. We are a $18,111!!!! I'm very excited to have broken over the $18,000 mark. Can you help me get to my new goal of $20,000? Let's keep it going! We only have 5 days left in August, so help me reach my goal before the end of the month!
If you feel moved to share a financial donation for my Gleaners fundraiser, use the link below.
https://give.gleaners.org/fundraiser/4739257
Also, don't forget to invite family and friends to join me for my Final Day of Catch Party behind the main church building near the playgrounds on Thursday, August 31st from 6:30 to 7:30 pm. We will welcome Rowdie, the awesome mascot from the Indianapolis Indians, and will give out free popsicles. Join us for the celebration! 
Here is the event page: https://www.facebook.com/events/1226246214719825/?ref=newsfeed
Get outside. Play catch. Find something that brings joy and a smile to your face.
Thank you for supporting Gleaners and following my 30 days of catch!