I should have borrowed Randy's catcher's glove from yesterday! Today I played with Senior softball player from Lawrence North High School, Ella Hogan. I met her and her parents at the softball field on campus. There's lots of construction happening everywhere at the school, but I didn't even notice the infield being torn up until Amy, Ella's mom, pointed it out. I guess I was focused on my upcoming game of catch. 
We both had bright, game-ready softballs to use, which was Ella's preference for today's catch. I asked a softball player if she preferred using a softball or baseball. I should have known better! Now I knew Ella started on her team, but I didn't know that she's been playing softball since she was little and comes from a softball family. Her mom played softball in college and coaches too. Ella threw with ease, accuracy, and strength the whole time never missing a beat. I'll be honest, I was worried about missing a catch or dropping the ball as Ella took a step back and then another. She can throw the ball with heat! Toward the end, I noticed she started throwing harder. I knew she was taking it easy on me at the beginning.
Ella plays 2nd and 3rd base for her team that won the IHSAA Class 4A Sectional Championship this year. She even hit a two-run home run in that game, which was her second homer of the season. This summer and into the fall, she's still been playing softball on a travel team. I always find it amazing to see the commitment of young student-athletes like Ella. 
I had to ask her, like all of my catch partners, who her favorite baseball team was. She doesn't really have one, but her mom and dad grew up cheering on the Cubs with family from Chicago. So, all is well! I'm sure Ella is busy enough wrapping up her high school experience, considering what's next for school, and staying fully engaged in softball to be watching baseball, which her mom joked is boring compared to softball.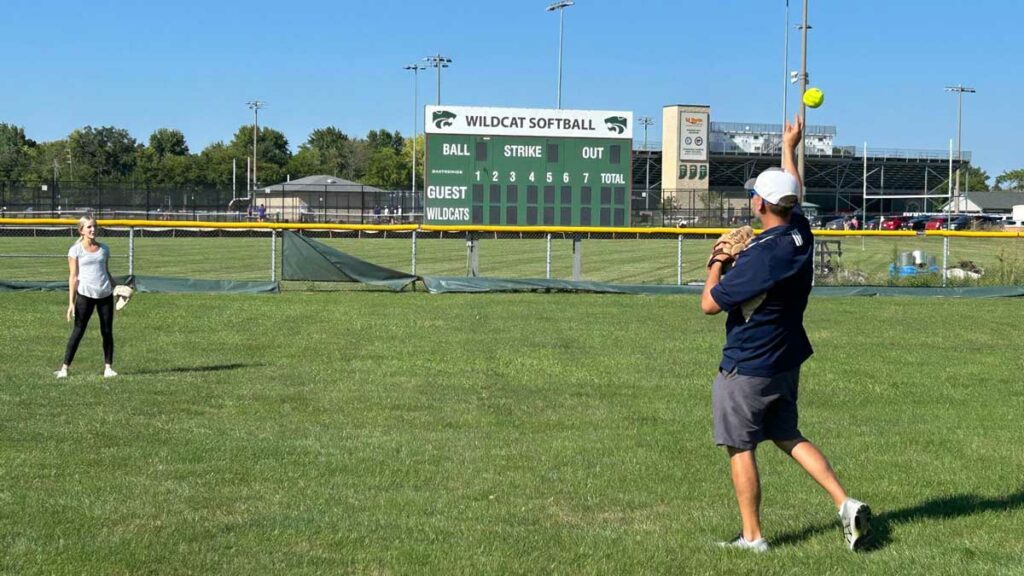 While I only played catch and talked with Ella for maybe 15 minutes or so, I'm sure her future is bright as she shared with me all she is thinking about studying in college. It's good to have many interests, I encouraged her that she'll figure it out. She is a committed teammate, it was clear she cared about her education, and she was kind enough to say that I could probably make her softball team. Like Theo and Tyre, my Day 6 catch partners, who said I could probably make the LN baseball team, these high school students were all being nice. Maybe I should try out for the vintage baseball team with those guys from Day 26, although they could hit too! 
I really enjoyed getting to know Ella and her parents today during our game of catch! It was a lot of fun to play in the outfield of the softball field with their family dog running around playing her own game of catch. I only have a few days left, but I'm really thankful for the experience this month and for every catch partner!  
You might be wondering where we are on the fundraiser for Gleaners. We are a $18,911!!!! I'm almost to $19,000. Can you help me get to my new goal of $20,000? Let's keep it going! We only have 3 days left in August, so help me reach my goal before the end of the month!
If you feel moved to share a financial donation for my Gleaners fundraiser, use the link below.
https://give.gleaners.org/fundraiser/4739257
Thursday, Thursday, THURSDAY! It's the final day of August and Rowdie from the Indianapolis Indians is coming to Castleton UMC! Everyone is invited to join me for my Final Day of Catch Party behind the main church building near the playgrounds on Thursday, August 31st from 6:30 to 7:30 pm. We'll have popsicles for the kiddos, cornhole, and the playgrounds will be open! You can also play catch of course and get your picture with Rowdie! Join us for the celebration! 
Here is the event page: https://www.facebook.com/events/1226246214719825/?ref=newsfeed
Get outside. Play catch. Find something that brings joy and a smile to your face.
Thank you for supporting Gleaners and following my 30 days of catch!