That's a wrap! On the 31st day of August, we held our final day of catch party with Rowdie the mascot from the Indianapolis Indians. It was so much fun to gather people from the church and community for a fun event. I loved watching more seasoned baseball players play catch along with our youngest baseball and softball players. It was truly an intergenerational evening. Some chose to enjoy some popcorn and Cracker Jack, some played on the playground, and others just wanted a picture with Rowdie. The main ingredient was fun with a side of joy! 
I witnessed many smiles and laughs at our final day of catch party. It's something I experienced all month! As I wrapped up my 30 days of catch challenge, author Ethan Bryan, who wrote The Year of Playing Catch, and was my inspiration behind this fundraiser, asked me what I learned from the experience. I'm still reflecting on my month of playing catch, while also recouping from my many fastballs! 
Joy, Fun and Playfulness
Here was my initial response to Ethan's question. I learned that the spiritual disciplines of joy, fun, and playfulness are important. Those are disciplines that I hadn't really emphasized since becoming a pastor. It's easy to focus on the serious things of ministry. Much of it is serious work, as you walk with a person or family to the end of life, celebrate baptisms and weddings, and discuss serious topics from theology to the bible. Yet, I had often forgotten to find joy in it all and I certainly forgot to play and have fun. By playing catch with 30 different people last month, I learned a lot about the God of joy who invites us to live a life of abundance and joy in Christ. 
A Chance to be Heard
As I shared through my 30 blog posts, I learned a lot about people. Yes, I learned about their favorite baseball teams, but I also heard a lot about their families, hopes, and dreams. One catch partner emailed me after I posted a blog about them and said that they couldn't believe I remembered so much from our conversation. It was easy to listen as we tossed the ball back and forth. I learned that people are far more willing to share about themselves than we think. We just have to give others a chance to be heard. I also learned that people are willing to come together for a good cause. A few of my catch participants had never played a game of catch before, but for Gleaners, they were willing to give it a try. 
I learned how so many of us desire to find joy and fun in our lives. Several of my catch partners shared how relaxing and enjoyable it was to break up their day with a game of catch. It might not be a game of catch for you, but I do hope you find something that brings joy and a smile to your face, and know that God cheers you on as you find some fun in something unique and different. 
Generosity
Finally, I learned how generous we all can be. Playing a game of catch invites us to be generous with our catch partner. During the month of August, I dropped many balls, threw it too far at times, and learned to be flexible and generous with my time. I also experienced the generosity of so many people who gave financially for the fundraiser. Over 150 people donated to this fundraiser. Some gave $5, some gave $1,000, and many others somewhere between the two, but everyone gave to support a great cause like Gleaners.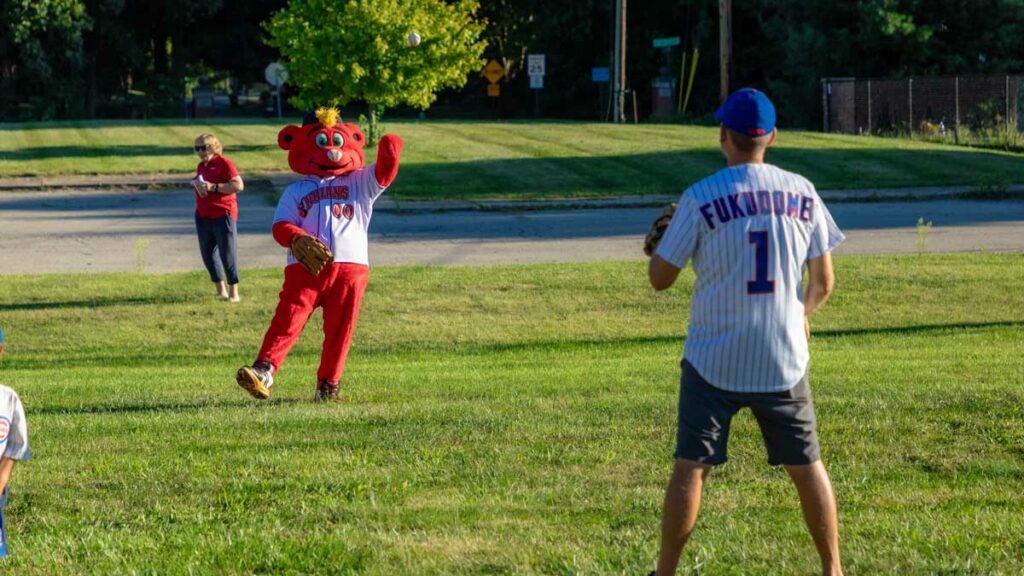 Thank You!
I want to take a moment to thank all of my catch partners and every person who donated to support my 30 days of catch! This was truly a labor of love and I'm grateful for all the people who made this fundraiser what it became, which was a fun, joyful, and simple way to raise awareness and funds. Oh, and you might be wondering what the total of the fundraiser was. As of today, the grand total is $21,036!
It's been an absolute joy playing catch throughout the month of August! Thank you for following my blog. I hope you enjoyed it as much as I enjoyed writing it and playing some baseball.
For the final time: Get outside. Play catch. Find something that brings joy and a smile to your face.
Thank you for supporting Gleaners and following my 30 days of catch!